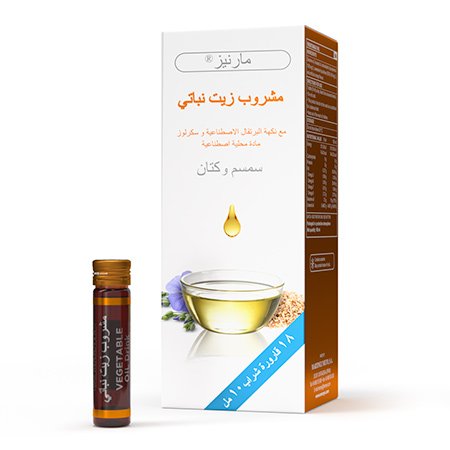 SESAME & LINDSEED
Natural Omegas for your diet and well-being. Rich in omega 9, 7,6,3
MARNYS® vegetable oil contains the essential fatty acids linoleic acid (Omega 6), and α-linolenic acid (Omega 3). The optimal combination of Omega-6 and Omega-3 essential fatty acids:
MARNYS® vegetable oil
provides you with the
vitality
as it contains natural and organic ingredients. It contains Omega 9, 7,6,3, which in turn help to grow and improve the metabolism during the growth of children and adults.It also contributes to
strengthening
the health of the heart and nerves and provides you with nutrition needs.
Sesame oil, linseed oil, antioxidants (tocopherols 1100 mg/ L), sweetener (sucralose (E955) 100 mg/ L) and artificial orange flavour.

1 vial (10 ml) a day.
Ideal to be consumed directly.

18 Vials x 10ml

Do not cook.
This product should not be used as a substitute for a balanced diet.
Keep out of the reach of children.
Do not store above 25 ºC.