In May this year, the company Martínez Nieto S.A. obtained the certification under the standard UNE-EN-ISO 22716 by the Spanish Agency for Medicines and Health Products that ensures compliance with the Good Manufacturing Practices (BFP/GMP) on the manufacturing, packaging, labelling, control and storage of their cosmetic products.  This certificate guarantees the quality and safety in the manufacture and control of their cosmetic products to provide their customers with the best possible service.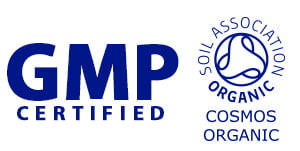 In addition, we have also been granted the COSMOS Certification by SOIL ASSOCIATION, which is one of the most prestigious certifiers of BIO and natural products worldwide.  Even though this certifier holds very demanding standards, we have succeeded in obtaining a certification for both our company and our products, which from now on will include the logo of COSMOS in all their labels.
The necessary requirements to obtain this certification include, among other things, the following:
Origin and processing of ingredients, their origin requirements and how they may or may not be treated. For example, water must comply with hygienic standards; minerals and mineral ingredients must be of natural origin; processed agro-ingredients must guarantee no GMO, no parabens, no synthetic dyes, no synthetic perfumes, no polyethylene glycol (PEG), no mineral/paraffin oils, etc.
Composition of total product – including how to calculate the organic content of complex ingredients.
Storage, manufacturing and packaging – to ensure adequate cleanliness, hygiene and traceability throughout all processes, and to ensure that packaging respects the environment.
Environmental management – details the requirements for environment care throughout the manufacturing process, and managing, minimising and recycling waste.
Labelling and communication – defines comprehensive requirements for clear product labelling and company advertising, to ensure all necessary information for consumers and no misleading claims.
Inspection, certification and control – the requirements for all products, their ingredients and their manufacturing to be certified by a competent body, authorised by independent accreditation. The process is repeated annually to ensure on-going compliance.
There are 2 categories of certification within the COSMOS standard:
COSMOS ORGANIC products must have a minimum of 20% organic ingredients for leave on products and 10% for rinse off products. They must also contain a minimum of 95% organic ingredients.
COSMOS NATURAL products must indicate the percentage of natural origin ingredients by weight in the total product.
Both certifications were granted to Martinez Nieto S.A. in May 2016.
For more information visit www.cosmos-standard.org