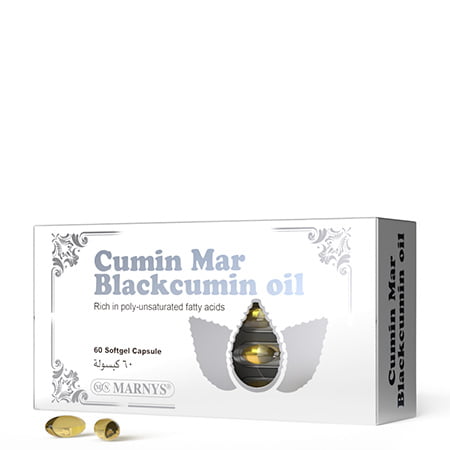 The Pharaohs' oil in capsule form
Black Cumin oil in softgel capsules extracted by cold pressing, what maintains its natural content of Omega 3, 6 and thymoquinone.
CUMIN MAR BLACKCUMIN OIL MARNYS® softgels contain Black Cumin oil extracted by cold pressing Nigella sativa L seeds. This extraction method guarantees that all properties are in optimal condition.
Nigella sativa seeds contain a high concentration of Omega 3 and 6 (oleic, palmitoleic, linolenic and linoleic acids), amino acids (arginine, leucine), carbohydrates (glucose, arabinose), minerals (calcium, phosphorus, iron), sterols (ß-sitosterol, avenasterol), tocopherols (α, ß, ɣ), thymoquinone, retinol (vitamin A) and carotenoids (ß-carotenes), thymoquinone, retinol (vitamin A) and carotenoids (ß-carotenes).
Black Cumin seeds were traditionally used by the ancient Egyptian, Greek and Roman cultures. In traditional medicine, Nigella sativa seeds and oil have often been used as a natural remedy for a wide range of conditions such as fever, cough, nasal congestion, bronchitis, asthma, dyspnea, high blood pressure, diabetes, inflammation, eczema, dizziness and gastrointestinal disorders.
MARNYS® Black Cumin Oil has been obtained by cold pressing the seeds of Nigella sativa L., guaranteeing the optimal state of all their properties.
MARNYS® Black Cumin Oil has a minimum content of 55-65% linoleic acid and 1.28% thymoquinone.
Omegas 3 and 6 promote the integrity of cell membranes, contributing to the skin's permeability barrier.
Both Thymquinone and Omegas have antioxidant activity.
Oil in capsules improves preservation and dosage.
Per capsule: Blackcumin oil* : 500 mg. *Oil obtained through cold pressing from the seeds of Nigella sativa L.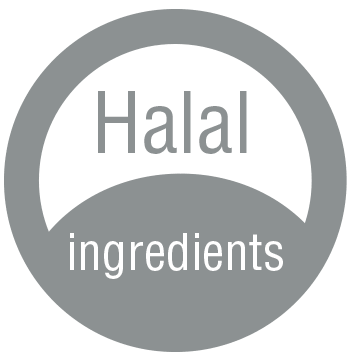 2-3 capsules a day, before meals.
60 softgel capsules
Food supplements should not be used as substitute for a balanced diet.
Do not increase the recommended daily dosage.
Keep out of the reach of children.
Store in a cool, dry place and away from light. Keep the product at 15-25ºC.