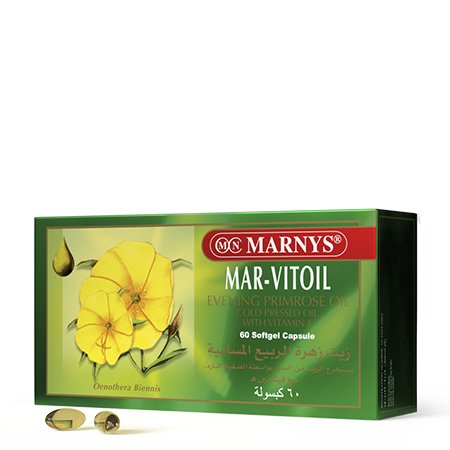 Gamma-linolenic acid (GLA) is a fatty acid belonging to the Omega-6 group produced by the essential fatty acid: linoleic acid.
MARNYS® Mar-Vitoil contains pure Evening Primrose oil extracted by cold-pressing Oenothera biennis seeds, what provides a minimum gamma-linolenic acid and linoleic acid content of 10% and 68%, respectively, as well as natural vitamin E. MARNYS® Mar-Vitoil is the ally for the general well-being of contemporary adult women.
GLA is rapidly incorporated into cell membranes as phospholipids, participating in the production of prostaglandins and in metabolic pathways. MARNYS® Mar-Vitoil and the properties of its ingredients facilitate general well-being in contemporary adult women thanks to:
The fatty acid content from Evening Primrose Oil that provides elements for the structure of different tissues, in addition to its role in some metabolic pathways.
Evening Primrose Oil also contributes to maintenance of normal skin (EFSA ON HOLD 695,1550).
Vitamin E contributes to cellular protection from oxidative damage (EFSA). Vitamin E in MARNYS® Mar-Vitoil is natural (d-α-tocopherol).
MARNYS® Mar-Vitoil is an excellent supplement for those women who want metabolic well-being and antioxidant protection.
In the formulation of MAR-VITOIL Evening Primrose Oil is neither subjected to high temperatures nor organic solvents are used. It's extracted by cold-pressing.
Per capsule: Evening Primrose oil and natural vitamin E (d-α-tocopherol).
Take 1-2 capsules a day, preferably before meals.
60 capsules
Food supplements should not be used as a substitiute for a balanced nutrition.
It is recommended to keep a varied and balanced diet and healthy lifestyle.
Do not exceed the recommended daily dose.
Keep away from children.
Do not store at a temperatures above 30ºC.