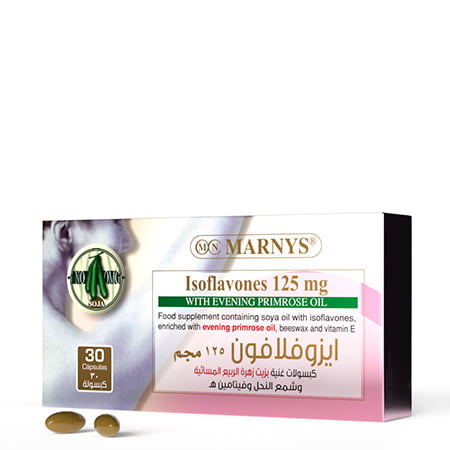 Soya Isoflavones and evening primrose oil; formula for female well-being
MARNYS® Isoflavones is a food supplement with Evening Primrose Oil and Soya Isoflavones free of genetically modified organisms (non-GMO). MARNYS® Isoflavones facilitates natural control of discomfort associated with changes in contemporary adult women.
The combination of ingredients in MARNYS® Isoflavones:
Contributes to relieving the symptoms related to the menstrual cycle thanks to Evening Primrose Oil (EFSA ON HOLD 693,694,1551)*. Evening primrose is a plant native to North America, whose native peoples used extensively for different conditions regarding well-being. Evening primrose seeds contain high concentrations of essential fatty acids, and the Evening Primrose Oil in MARNYS® Isoflavones has got a minimum GLA (gamma-linolenic acid) content of 10%.
Evening primrose oil also contributes to maintenance of normal skin (EFSA ON HOLD 1550).
The supply of Soya Isoflavones (Genistein and Daidzein) concentrate at 40% facilitates the complete well-being of women when changes because of age occur. Soya bean (Glycine max) is a species of the leguminous family (Fabaceae) cultivated due to its seeds, which are an important supply of proteins and fatty acids. Its origin approximately dates back to the 11th century B.C. in Southeast Asia. As Eastern religions prohibited the consumption of animal meat, soya bean became a major substitute known as "field meat" or "Chinese beef".
Contributes to cellular protection from oxidative damage (EFSA) thanks to vitamin E, which in MARNYS® Isoflavones is natural (d-α-tocopherol). Dietary sources of vitamin E are vegetable oils from corn, soya bean, sunflower, almonds, peanuts, or hazelnuts, among others.
Emollient effect due to its Beeswax content, which contains a mixture of hydrocarbons and free fatty acids, among others.
MARNYS®
Isoflavones is an excellent supplement for those 
women who naturally want to control changes associated to age, as well as to obtain complete well-being
.*The dose required for the effect is 3 g/day
Evening primrose oil (500mg), soya isoflavones (Non-GMO), beeswax and natural vitamin E.Capsule shell composition: gelatin, glycerine, colours (yellow iron oxide, brown iron oxide and titanium dioxide) and water.Allergens: contains soya bean.
1 capsule a day, preferably in the morning.
30 capsules