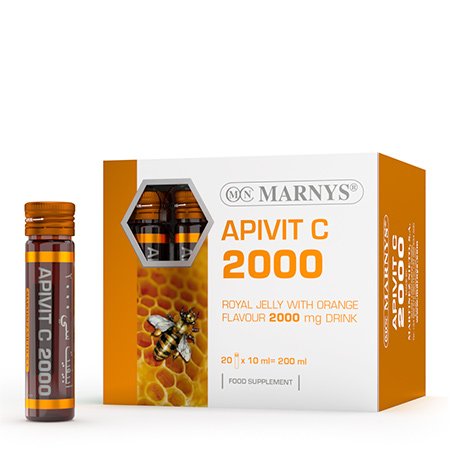 Royal jelly and vitamin C. With orange flavour
Drinkable vials with a high dose of Royal Jelly (2000 mg/vial) and vitamin C to strengthen your body in a natural manner.
MARNYS® APIVIT C 2000 is a food supplement that contributes to strengthening the metabolism and the immune system to combat the deficiencies due to age and physical condition.
Nutrient deficiency is undoubtedly the most frequent reason for organic dysfunction, that may occur due to: growth and aging, fatigue, stress, and convalescence (i.e. postoperative periods, after a diagnosed condition, an emotional shock, or excessive stress. Diet and supplements are fundamental for recovering an optimal physical, mental and emotional state).
How it's presented
MARNYS® APIVIT C 2000 is presented in handy and practical drinkable vials. Each vial of MARNYS® APIVIT C 2000 contains 2000 mg of Royal Jelly, with Vitamin C. A pleasant orange flavor in an easy to take and transport food supplement.
MARNYS® is one of the largest manufacturers of Royal Jelly-based products in the world. The quality of MARNYS® bee products has been awarded by the most demanding international entities.
MAIN BENEFITS
Royal jelly is a creamy substance produced by the common worker bee with the purpose of developing and nourishing the queen bee.
On this diet of Royal jelly, the queen bee will typically grow to be 40 percent larger and live 40 times longer than the worker bee. Royal Jelly is believed to be the secret of her longevity.
Royal Jelly contains a wide variety of nutrients that are essential to proper health and organ function. It also helps with fertility issues that are related to hormonal imbalance.
Royal Jelly naturally boost the body's immune system and it is beneficial to increase libido, support egg and sperm health as well as promote hormone balance.
Vitamin C has a direct antioxidant capacity and contributes to protecting cells from the harmful effects of free radicals.
Vitamin C prevents the oxidative damage of lipids, proteins, and DNA which takes place during the development of chronic diseases such as cardiovascular conditions 1,2,3
Vitamin C has also been shown through several studies to play an important role in Hormonal balance, Sperm health, Immunity and pregnancy.
The synergic action of Royal jelly and Vitamin C contributes to the efficient functioning of the immune system, favoring, therefore, a full organ function.
Deionized water, fructose, royal jelly, artificial orange aroma, vitamin C, preservative (potassium sorbate), acidity regulator (citric acid).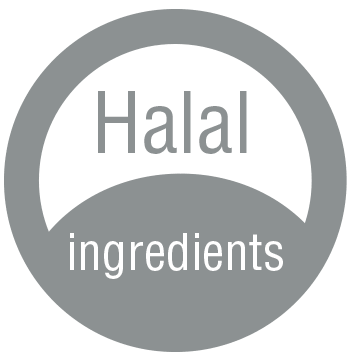 1 vial a day before breakfast.
20 x 10ml
Food supplements should not be used as a substitute for a balanced diet.
Do not increase the recommended daily dosage.
Shake well before use.
Keep out of the reach of children. Do not store above 30ºC.
May cause allergy for individuals, related to royal jelly.
Not recommended for pregnant and lactating women and children (consult the physician and the pharmacist).