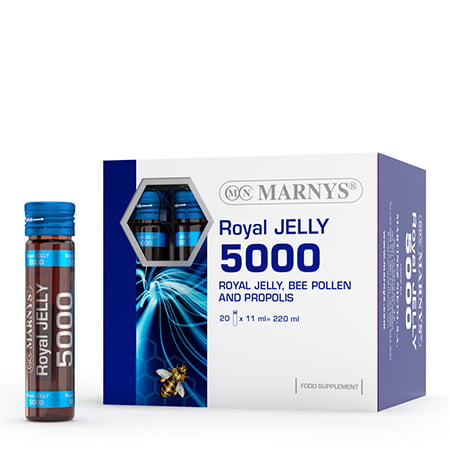 Extra energy for special periods
Royal Jelly, Bee Pollen, and Propolis in a practical drinkable vial
MARNYS® Royal Jelly 5000 provides the necessary energy intake for individuals with intense physical or work activity, during stressful or convalescence periods, hormone disorders and nutritional decompensations.
Presented in a handy and practical drinkable vial, MARNYS® Royal Jelly 5000 contains Royal Jelly, Bee Pollen, and purified Propolis.
MARNYS® Royal Jelly 5000 is the only product in the market that contains 3850 mg of Royal Jelly. The synergic action of its formula provides extra energy for the correct metabolic functioning, improving the physical and mental state.
MAIN BENEFITS
Pure Royal Jelly is a substance with a high nutritional value which intervention has been proven in the processes of immunomodulation, hormone regulation and neurogenesis.
Bee Pollen contains a big variety of biologically active substances: Proteins, amino acids, carbohydrates, lipids and fatty acids, phenolic compounds, enzymes and coenzymes, as well as vitamins and chemical elements. Phenolic compounds and flavonoids have an antioxidant capacity and their benefits for the cardiovascular, hepatic and musculoskeletal systems have been demonstrated.
Purified Propolis Is a natural mixture produced by bees, buds, and exudates. Propolis contains twelve types of flavonoids, the main ones being Galangin, Pinocembrin, and Catechin. The combined action of these compounds contributes to the immunomodulatory effect, anti-inflammatory effect, and facilitates metabolic processes.
Deionized water, fructose, royal jelly, bee pollen, purified propolis, acidity regulator (citric acid), preservatives (d-alpha-tocopheryl acetate, potassium sorbate and sodium benzoate).
1 vial a day before breakfast.
20 x 11ml vials
Consult the physician or the pharmacist before using this product, for patients who are suffering from asthma.
Do not use in case of patients who are allergic to pollen.
Shake well before use.
Food supplements should not be used as a substitute for a balanced diet.
Do not exceed the recommended daily dosage.
Keep out of the reach of children.
Do not store above 30 ºC.