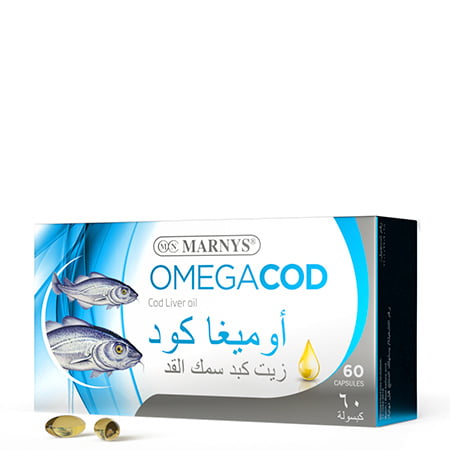 The Omegas of Cod Liver Oil
Omega 3 with natural Vitamin E
Omegacod is a dietary supplement contains EPA + DHA, vitamin E, A and D that contributes to the protection of adult organs, thanks to the effective modification of inflammatory and immune processes. OMEGACOD is a rich source of n-3 fatty acids, EPA, DHA, and they are well known for their protective effect in the organs.
Cod Liver Oil has been traditionally used for long in countries with extreme northern latitudes, including Norway, Denmark or Canada, among others. Within their basic diet, they include the regular consumption of cod liver oil given the interesting properties that contribute to a healthy state.
Cod Liver Oil is extracted from Atlantic cod (Gadus morhua), which belongs to one of 60 species of this family of migratory fish living in the cold northern seas. The oil is extracted from cod livers that are steamed, and then pressed to extract the oil. The ingredients in MARNYS® Omegacod provide the following properties:
Cod Liver Oil is a good source of fatty acids, EPA and DHA, and Omega 3; essential for body processes and structures.
Furthermore, Cod Liver Oil is an excellent source of vitamins A and D, which comply with the European Pharmacopoeia.
Natural Vitamin E contributes to cellular protection from oxidative damage (EFSA).
MARNYS® Omegacod is an excellent supplement for those adults who want to preserve a good general well-being state by providing Omega 3 and vitamins to their body. The Oil in capsules is advantageous for better preservation, dosage and masking the taste.
MARNYS® analyses marine oils in accordance with strict international standards on purity and freshness.
Cod liver oil, Vitamin E.
1-2 capsule daily before meal
60 Capsules
Food supplements should not be used as a substitute for a balanced diet.
Do not increase the recommended daily dosage.
Keep out of the reach of children.
Do not store above 30 ºC.