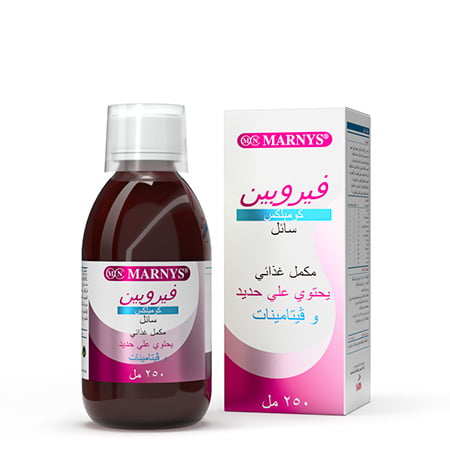 Iron and vitamins
It promotes red cell levels and improves energy, neurological and health functions, and also it helps patients with anaemia.
Ferrobine Complex is specifically formulated with iron and 12 vitamins to complete your iron levels, an essential element for haemoglobin and cell oxygenation.
MARNYS® Ferrobine Complex contains Iron in the form of Ferrous Gluconate, which is the binding of a glucose derivative to Iron in an oxidised state (II), enabling easier absorption by the intestine. It also provides greater stability to Iron by preventing its decomposition inside the intestinal tube, causing much less gastric irritation than other commonly used inorganic ferrous salts, such as ferrous sulfate (Pérez 2006; Gyurcsik 2000).
MARNYS® Ferrobine Complex and its ingredients provide the following properties:
Iron contributes to normal synthesis of red blood cells and haemoglobin, the oxygen transport within the body and to normal cognitive function in the development of children (EFSA).
The Ferrous Gluconate in MARNYS® Ferrobine Complex provides 100% of the recommended dose of iron, once per day.

Vitamin C

 contributes to normal formation of collagen in the skin, bones, joints, tendons, cartilage, blood vessels and teeth for their normal functions. It also contributes to normal function of the immune system, as well as to increasing the absorption of iron (EFSA). The source of vitamin C in MARNYS® Ferrobine Complex is L-ascorbic acid and the dietary sources it is obtained from are liver and kidneys, citric fruits such as strawberries, oranges, lemons, grapefruit, kiwi, and vegetables such as pepper, cabbage, radish, broccoli, raw parsley.
Vitamin A contributes to normal iron metabolism and maintenance of vision. It also participates in the cell differentiation process (EFSA).

Vitamins B6 and B12

 contribute to normal energy-yielding and homocysteine metabolism, red blood cell synthesis and to reduction of tiredness and fatigue (EFSA).
Niacin and Biotin contribute to normal maintenance of the skin and mucous membranes, and Biotin contributes to normal maintenance of hair (EFSA). Niacin (B3) is found in the following food: lean red meat, poultry and liver as animal sources, and legumes, grains, tea and coffee as vegetable sources.
Riboflavin and thiamine contribute to normal function of the nervous system. Thiamine also contributes to normal heart function (EFSA).
Deionized water, fructose, lemon juice, apple juice, prune juice, fructooligosaccharides, iron gluconate, fruits, vegetables and cereals concentrate, vitamin C, lemon flavour, preservative (potasium sorbate), niacin, vitamin E, pantothenic acid, vitamin B6, riboflavin, thiamine, vitamin A, folic acid, biotin, vitamin D, vitamin B12.
Children from 5 to 12 years: 5 ml a day, before breakfast.
Teenagers and adults: 10 ml a day, before breakfast.
250 ml. Bottle
Shake before using.
Food supplements should not be used as substitute for a balanced diet.
Do not increase the recommended daily dosage.
Keep out of the reach of children.
Store below 25 ºC.
Once opened use within 6 months.