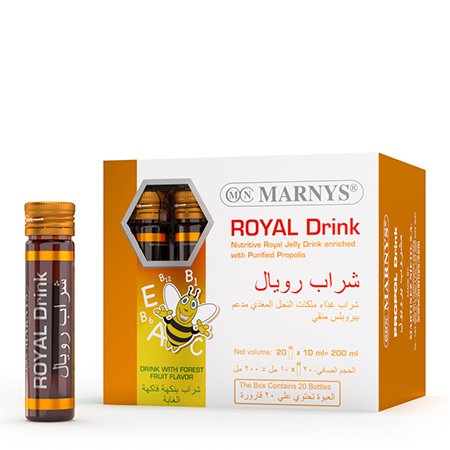 Nutritive Royal Jelly Drink enriched with Purified Propolis
Royal Drink supplements the diet, especially in children and teenagers during their growth period thanks to the exclusive combination of 12 vitamins, Royal Jelly and Propolis.
MARNYS® Royal Drink presents an ideal formula due to its content:12 vitamins, royal jelly and propolis that provide the following properties:
Vitamins B6, niacin (B3), pantothenic acid (B5), folic acid (B9), biotin (B7), thiamine (B1) and vitamin B12 in MARNYS® Royal Drink contribute to the normal function of energy-yielding metabolism, the nervous system and the immune system, as well as to the normal production of red blood cells (EFSA).
Vitamins C, D and E contribute to the normal formation of collagen in bones and joints, to the normal development of bones and to the cell protection from oxidative damage, respectively (EFSA).
Propolis is purified by means of proprietary technology, eliminating inactive substances such as wax, and guarantees a minimum flavonoid content of 10% expressed as galangin.
The Royal Jelly in MARNYS® Royal Drink provides a significant content of unsaturated fatty acids that take part in the energy-yielding processes.
MARNYS® Royal Drink is recommended from 4 years of age. Thanks to its excellent formulation, this product provides energy and complete care to children and teenagers during their growth period, physical activities and physiological changes.
The single-dose drinkable vials are easy to drink, safe and easy to transport. In addition, it has got a pleasant forest fruit flavour. Its liquid format is ideal for drinking it by itself or mixed with cold juices, yoghurts, smoothies..., which enable an easy, convenient and rapid intake.
Deionized water, fructose, royal jelly, vitamin C, propolis, niacin (vitamin B3), vitamin E, pantothenic acid (vitamin B5), vitamin B6, riboflavin (vitamin B2), thiamine (vitamin B1), vitamin A, folic acid, biotin, vitamin D and vitamin B12.
Acidity regulator (citric acid (E330)), Preservative (potassium sorbate (E202)), Forest fruit flavour.
1 bottle a day before breakfast.
For adults and children starting from 6 years of age.
20 Vials x 10 ml.
Keep out of the reach of children.
Do not store above 25 ºC.
Keep out of light, high moisture and heat.
May cause allergy and it is not recommended for pregnant and lactating women and children below 6 years old and anyone with sensivity for bee products such as Pollen sensivity.