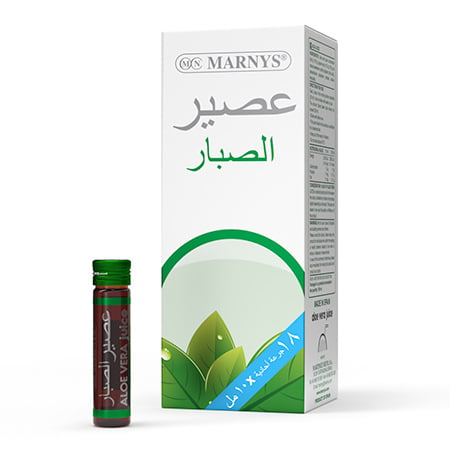 Aloe vera: authentic well-being
MARNYS® Aloe Vera Juice counts on the IASC (International Aloe Science Council) certification, which guarantees the parameters established to obtain Aloe vera juice: leaves are peeled one by one and the bark is removed, the pulp of the plant is pressed and cold processed to keep its properties intact.
Aloe vera juice concentrate (84.8 g/ 100 g), agave syrup (15.0 g/ 100 g) as natural sweetener, acidity regulator (citric acid), preservatives (potassium sorbate, sodium benzoate).
Take 2 vials in the morning before breakfast (20 ml).
It can be taken with water or juice.
18 Vials x 10 ml.
The amount (dose) taken daily should not exceed 200 ml.
Shake well before use.
This juice should not be used as a substitute for a balanced diet.
Keep out of the reach of children.
Do not store above 30 ºC.